METRO Weddings, Bridal Factory, etc
METRO WEDDINGS
Honestly, I was really disappointed with this issue... Aside from the lengthy articles on where to go for pampering, I found it really lacking in tips and other stuff that would really, really help brides-to-be...
The P150k wedding project was ok... though I felt they only got the P7k flower package because they were in a position to haggle... read: because they're friends or whatever... for even in Dangwa, I highly doubt it that you can get so much flowers (with tulips even!) for the bride and her entou for the same price... Pinoydon as caterer is a good input for those who want a different kind of something served to their guests... am just not sure how flexible their menu is... and of course, the project was lacking a video package, and yet had butterfly release and souvenirs in it... wehhhh....
What else... it would have been nice to know how much each accessory or bouquet featured there costs... There were also a lot of Lila Almario shoes in the issue... so that's definitely not for those on a budget...
Oh yeah... their article on cheap finds along Quiapo... uhm... basically, the article said that you have to commute because parking is impossible (and scary!) and you have to be willing to get exhausted... those who wrote it started by checking out invite shops at Recto... then going to Evangelista/Palanca/Villalobos (these are nearer Quiapo Church) for lace, beads, accessories, souvenirs, cheap gowns and flowers. The pictures are nice, there were some prices quoted to give people an idea of how much they can save if only they're willing to let go of their sheltered lives...
There were also a lot of typos... one article even spelled Monet as Money...
The proposals featured were nice... but again highlighted the great divide of those who can afford the ring and wedding...and those who can afford a proposal that costs as much as the ring and wedding...
The Claudine Baretto ish was definitely better than this one... and at P250, I was really hoping for glorious tips and reminders... I should just really have gone to Recto and haggled w/ those selling 2ndhand books and mags for a thick Modern Bride issue for more pictures and tips...
I thought getting a local mag will be better because at least you'd have a more realistic knowledge of what is actually available for you here in the country (esply where flowers are concerned)... but a visit to
w@w
and a trip to Dangwa (or even a call to flower shops) would have taken cared of that...
But oh... a great thing the issue had that I wished it thought to prioritize... was listing Churches with fees and their inclusions/limitations (in the Directory page)...
And yes, featuring alternative sites to hold receptions in (Sonya's Garden, Antonio's, Taal Vista... although most of them are again, not for the middle-income earners) was also nice...
*~*
Membership in the
W@W
yahoogroups could be a real bittersweet experience. On one hand, it's so easy to compare yourself, your accomplishments, your budget (and its limitations) and your love stories with those of the other brides. It's sooooo easy to get overwhelmed as you process other people's preparations too, not just your own... and get lost in the trends and the hype of popular/favorite suppliers.
And then of course, there's the fact that we tend to take for granted that we still belong to an elite group... not because we're like Judy Ann Santos who gets paid 6 figures for every taping... or because any of us were born into, or marrying into a DBF (De Buena Familia)...
What makes us privileged is the fact that we have access to the internet... and it's always good to note that millions of couples/people in this fine country of ours don't.
So no matter how much we say we got something cheap... chances are, it's still mid-ranged price compared to what could be afforded by the REAL average joe's.
Having said all these things though... W@W will always be something I'd be grateful for...
For it has allowed me to walk with fellow brides one step at a time as we simultaneously go through the process of becoming a bride and wife. No other set of people can really empathize with the minute details and concerns a wedding preparation entails... Your friends and family will ask about your preps but they will not obsess with you over them...nor will they listen to hours upon hours of deliberation and dilemma... and drama.
W@Wies have become my solace and source of validation in the times I feel am going mental already. And I've gotten so many practical tips and useful leads for cheap finds as well as other wonderful ideas from them. They're not madamot at all. And I hope I have been, in turn, just as giving and helpful to one or some of them...
*~*
THE BRIDAL FACTORY
Ysabelle Fashion
1303 Benavidez St., Sta. Cruz Mla
Call 321-0204; 256-8055
Accompanied Wella and Charie as they bargained with the Bridal Factory people last Saturday. Met Pinky in the process. We ooooh'd and ahhhh'd while Jason drew wonderful creations for Charie and Pinky, slightly modifying the picture of their dream gowns to accommodate their budget limitations... We were lost (enchanted) there for hours.
Rhoda and her husband/partner (sorry, I forgot the name) are both really accommodating and warm people... they spend their weekdays at their Sta. Cruz branch and Saturdays at their showroom in Guadalupe (near Rockwell, along EDSA). They are quick to tell you what is not a great combination but will also not insist on them (after all, you've been warned).
They have fabrics and swatches available...and being at their showroom, my new friends also got to try their gowns on for size to better know if a particular neckline or silhouette is flattering for them.
It was really, really fun.
They say the Bridal Factory average price is some P9,000... but of course, when you insist on beadings galore and embroidery, when you want long trains and layered, expensive fabrics... they can also deliver what you want, only at a higher price...
They charge as much as Tet, I think (meaning their gowns are around the same price range, and of the same quality) but they weren't too keen on asking about the lighting and venue size and reception program like Tet (which should affect the gown design)... you have to offer such info to them...
Still, I think had I not gotten Tet, I wouldn't have minded working with them :) Having seen samples of their gowns, you have to really admire the way they do beadwork. Plus, even if I wasn't a customer, we had rapport like crazy!
Oh and yes, Bridal Factory gives free hairpins (studded with rhinestones or pearls) to their brides.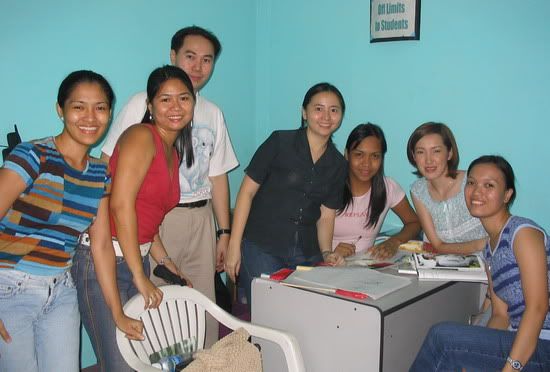 Charie, Mec, Hubby ni Rhoda, Rhoda, Jason, Pinky, Wella
True to my word, here are my friends' Cinderella moments...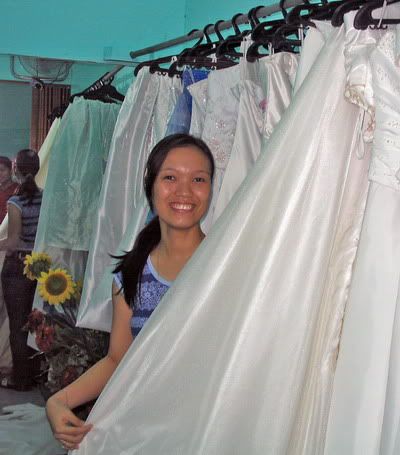 Wella going loca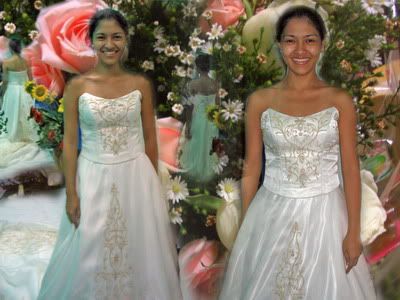 Charie feeling bride na (photoshop courtesy of my friend Polo)
*~*
I was aghast at having been introduced to a petticoat. Those who dream of using duchess satin just because it's more expensive... or shimmery (shiny, shimmery fabrics aren't that advisable for morenas), and also want ballgown-types... or heavily beaded/embroidered designs... better try on a petticoat first!!!
It was uber heavy!!!! It's a multitude of tulle with lining and it could even stand on it's own!!! Susmio...
Embellishments on the torso are ok, because your body will be carrying the weight... but embellishments on your skirt and train... plus the petticoat...will be weight you'd be dragging around.
So, think, think, think about your gown design!
*~*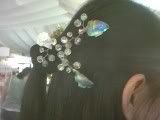 I'd love to have something as fancy/dainty/pretty on my hair on my wedding day. I forgot who was selling such hairpieces at the Bridal Fair at Rockwell last weekend...she was charming and sexy... ahehe
The hairpiece could be had for P1k, but it's a set of three... Wella, Charie and I half-agreed that we'd pool our money and buy a set from her... her Swarovski and rhinestone pins sell for P400 (set of 12), so maybe I can also find other brides to share it with... because with something already this pretty, i'd just need some 3 or 4 studs on the otehr side to perfect the look.
Uyy... kikay na ako!
*~*
Wouldn't it be nice if, because you usually give your wedding bouquet away (either by tossing it, or awarding it to someone), you'd get a replica of it every Anniversary from your hubby?
.