Jojo & Mec: the next chapter
(THE WEDDING KWENTO THAT WILL TAKE DAYS TO FINISH)
The day before the wedding, it rained!
And heavily.
And my Baby and I had several tiffs because we had a lot of errands to still do.
We checked in at Pearl Manila at 2:00 PM and separated soon after.
I found myself in a 2-bedroom suite all alone, no one fussing over me.
Worse, I had to buy snacks for the suppliers for the next day. So off I went to Rob Place. Got a massage first before grocery shopping.
Was basically alone till around 9 pm, when Rowie (my coord) came by to check on things.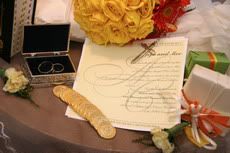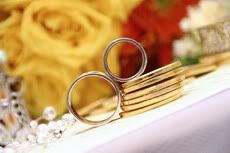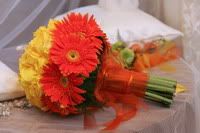 My sis and cousin arrived at 9 pm too... with fresh pedis and manis... while I ruined mine walking the length of UN Avenue from dinner. (Thank heavens for hotels with toothbrushes)
My gown arrived at past midnight.
I was up till around 4 am. Not really anxious... actually, more depressed that nobody was fussing over me. I always thought you fuss over brides!
Left instructions to my sis (MOH) that I was not to be disturbed till 12 noon. And true enough, she and my cousin woke up very early to field calls... going about the suite as stealthily as prowlers at night. I didn't even hear them go out for breakfast...
Because I woke up at 7 am.
Then again at 8 am... only to hear my cellfone ring and have my panicky Dad scolding me about something trivial (like who's attending to our guests from Lipa?).
Then again at 10 am.
Then again at 12 Noon.
Ate lunch at 1:00 PM... delivery by my Baby who bought me noodles from Chowking... my sis and cousin found it adorable that he had his back turned when they opened the door...
Jojo was adamant about not seeing my face before the ceremony.
ANGIE CRUZ arrived earlier than his 2 PM call time. I rushed to take a bath then. One by one, suppliers started arriving (coords, florist, photo/video team) and members of the entou started lining up to be made up.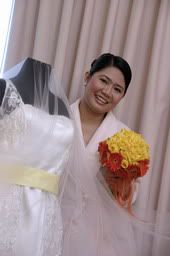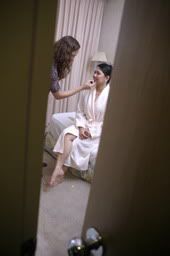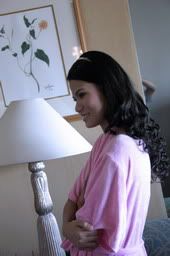 We were all relaxed.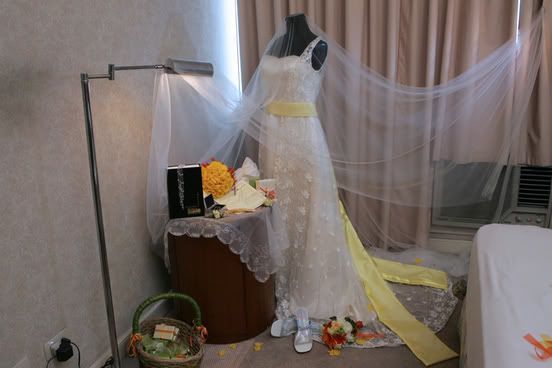 My bridal ekek
After the usual photo ops (nobody really rushed, we're all just some 3 minutes away from the Church anyway) and the uneventful car ride to Paco Park... the first person I saw was Jojo himself... his back turned to me and talking on the phone.
Since there was a wedding before ours (hello, Portia!), I had to sit and wait in the car... chagrined a little as I saw members of the entourage of the wedding after mine, already there.
Anyway... I wasn't nervous at all... I was even filled with a sense of melancholy to have arrived at the culmination of months and months of preps.
And then TET comes to me to tell me I could already get out of the Benz... and I see the set-up for the Golden Wedding, and walk past the guests to take my place where I shall begin my march.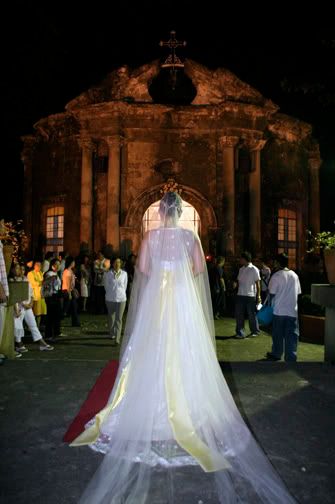 My wedding was beautiful... so beautiful that a lot of tears fell from those who truly love us... (my MIL cried the whole morning, the whole ceremony!)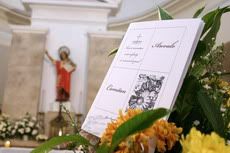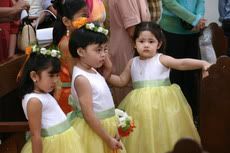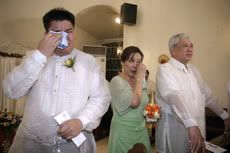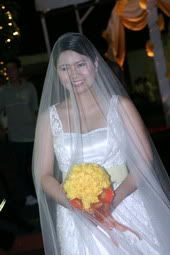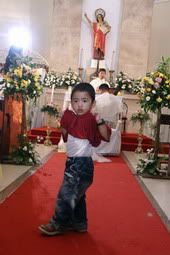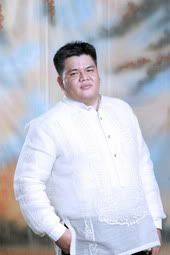 And FR. ED COROZA was delightful with his homily, stressing how important it is, that we chose to
be witnesses of each other's lives
as God was witness to our union.
(However, being mildly claustrophobic... I felt SICK and DIZZY at half-time, ahehe, bothered by the veils and the cord)
Well, yeah... one of our bearers didn't really like marching down that aisle... he never smiled the whole time. But Py wasn't pasaway (although we suspect, it became traumatic for him to see people close to him crying... like my sis and cousin, and his beloved Ninong... which is why, after 'un-liking' us for 2 days, complete with 'palayas ekek', he approached me and said, "Tita Mec, wag mo na paiyak Ninong ha?") and he looked so cute in his orange barong :)
Yumi (one of the flower girls) would give big smiles to everyone who said she was such a pretty girl. :)
And yes, my sis reminded people of Say from PBB... because of the hair-do. The hairpiece she used was originally meant for me, sent by Jojo's cousin from the US.
Basta, the wedding was solemn and very personal. And we really didn't think that 90% of our invited guests would actually go to the CHURCH, considering it was a working day. WE assumed only the closest family and friends will be there... and the rest would be at the reception waiting for us. I guess, in the end, everybody who showed up was CLOSE to us and LOVED us enough to take leaves and go undertime.
And yes, feel na feel namin our vows. Even Rowie (the coord) cried! Even Jojo's neighbors! Even my colleagues! (My Mom didn't cry, so conscious of the cameras... hmmpf! She cried New Year's Eve instead because she missed me that time since i spent it with Jojo's family instead).
Again, we had a very beautiful wedding.

Being this happy made us criminals, I swear!
Reception started with us and a torch parade. Food was abundant (and great too!) and booze was flowing!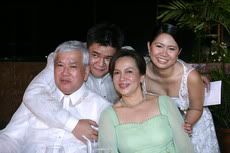 But tears flowed again when my FIL gave his speech...
telling everyone present that a thousand of his son, Jojo, can never replace ME
, which is why my beloved has to forever honor and respect ME!
Our first dance was lovely... Austin of Bernie Pasamba tried his best to perform Mig Ayesa's version of BABY, I LOVE YOUR WAY :)
We had to cut the program short (leaving out the Anniversary dance which we hoped would celebrate married couples present) because the longest-married ones were starting to leave, it being a weeknight!
And of course, pa-cute lang the single men, nobody really attempted to catch the garter!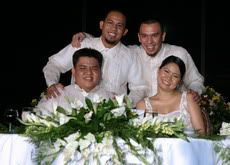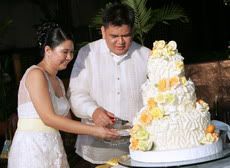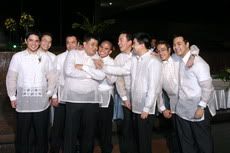 There was no bouquet toss... for the twist we planned for the evening was,
to let the catcher of the garter PICK a woman he wants to honor, as most beloved to him, or most beautiful for him.
In the end, it was our Best Man who picked the garter off the ground... we gave him my bouquet to 'award'. He chose his ex (who was there with her family).
WE didn't really have other games nor planned other activities because we knew it was a weeknight.
My Mom and Jojo's Dad, my SIL and cousin... they had a field day over the videoke part of the night. Even DULCE, my emcee, sang before leaving the party.
We forgot to give the cakes to our PS, hehe... and photographers found my sis and cousin barefoot and running around the place... and Jojo's colleagues and La Salle friends stayed and tried to finish the kegs of beer... and of course, we were tired (hungry too!).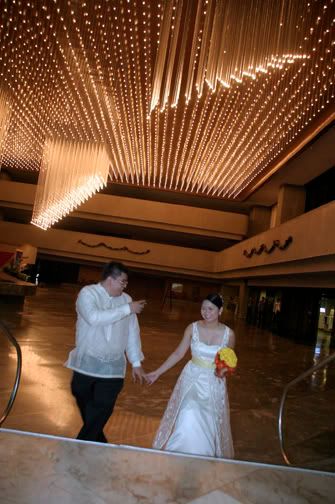 Back at the hotel, Jojo and I were delighted that there were ensaymadas for us to eat. And milk to drink.
I ended my wedding day with a shower.
And well... :)
(have to end here muna)