Davao Honeymoon!
Like what I've posted before, Baby and I were gunning for a Grand Palawan trip... Davao was something that just came up because I had to leave for the city for work... and we found we had money enough for Baby Jojo to follow
(juggling expenses here and there with much faith, if I may add).
So Friday found me (and my colleagues) waiting for Jojo's arrival. As a grand hello for Jojo
(it was his first time there)
, he was made to eat
marang
. At least it wasn't durian that was opened in front of us, ahehe... esply since people have been convincing me that we should eat durian since it's
mainit sa katawan
and considered an aphrodisiac. They even tried to entice me with the possibility that the fruit will result in a pregnancy, and that we should name the baby
DOREEN
if it's a girl (and what, DORIAN if it's a boy?) :)
(It's typical of Pinoys to be nosy and involved and dishing out advice, but Davaoeños do it with such sweetness and grace that it actually felt nice rather than annoying when they give all these tips on reproduction... they were far from offensive and tactless at all)
Anyway, we allocated funds for a hotel stay for 3 nights in the city... but counterparts there convinced us to just stay at the Staff House for the rest of the time we'd be in the City... and spend the money on an overnight stay in Samal Island instead. So, after lunch... we made reservations in Paradise Island Resort and cancelled our reservations at Bogobo Hotel. We hightailed to Aldevinco to shop for two hours for pasalubongs
(Rosalinda-cloth malongs at P250 ea! Sarongs at P110-140 ea, depending if it's tie-dyed or not... T-shirts at P85-100 ea)
. We also decided to eat merienda (and fell in love with the
egg pie!
) at the canteen there before rushing back to the Staff House and making the cab driver wait for us to dump our bought goods and get our backpack... so he can take us to where ferry boats bound for Paradise are about to conduct their last trip for the day.
Days in Davao were kinda gloomy so we didn't really enjoy a sunset when we got to Paradise. We were checked in
Room 19-B
, a pretty villa-like room with twin beds we had to push together to make a King-sized bed. At P1,800.00 per night, it's actually expensive since it didn't include breakfast and didn't offer a cable TV, a bath and hot water... but we're not really complaining :) We deserve the luxury anyway :)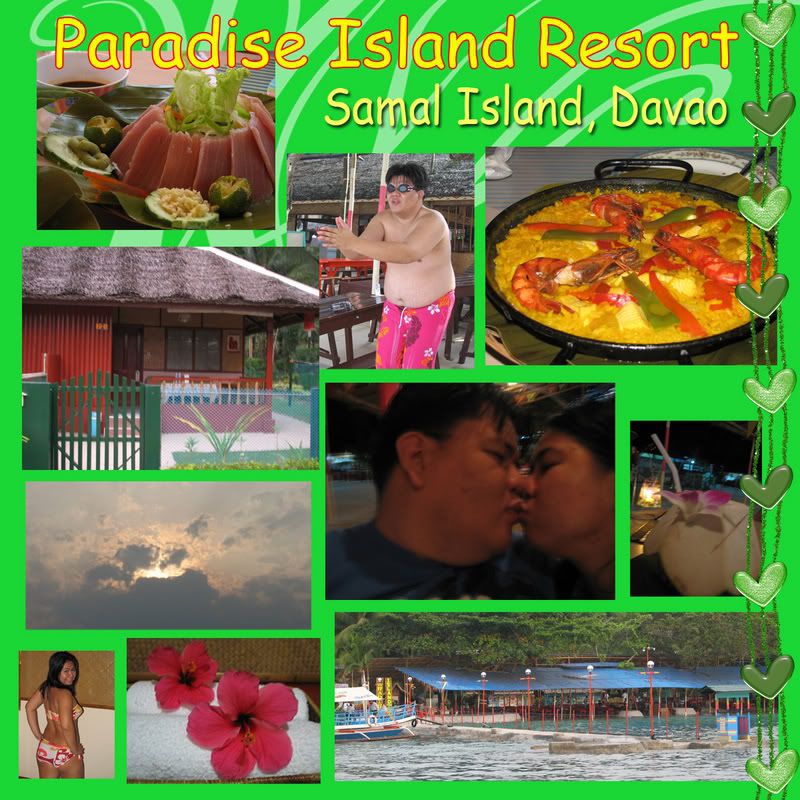 Baby Jojo and I were one of two couples who were on a
PDA movement
at the beach... but what the hey, it's our honeymoon and we ARE married and had every right to nuzzle each other and kiss and play.
Besides, there weren't any kids swimming since it was dark. *wink*
Dinner, of course, was a wonderful affair with seafood... while being serenaded by the resort's singers who really hop from one group of guests to another to sing classic love songs. Relaxed and happy, we capped the night with
white chocolate in bed
...
... and woke up to a great morning.
We were entitled to kayak time and enjoyed it... and found out that the resort works with locals and offers
INLAND tours
. At P750 per tour (maximum of 3 pax, visiting 3 tourist attractions), it's a great thing to maximize our time in Samal. It was not part of our itinerary but a welcome alternative yet again.
A multicab took us to about 4 hours worth of outdoor fun in Samal. First stop is the
Largest Colony of Rousette Fruit Bats
in the world... at Igacos. I was expecting a cave that we'd have to enter... but the bats actually live in cave-like holes on a hill. I believe the Extra Challenge had Ethel Booba and other people deliver a coin from its bowels for one episode... anyway, the bats were tres creepy and the place stank of their poop
(guano?)
which resulted in a headache in my husband (but weirdly enough didn't bother me). What did bother me was getting bitten by all those mosquitoes... resulting in a quick trip to a drug store after for alcohol and Off Lotion
(and a husband who had to hold my hands the entire tour so I won't be scratching myself).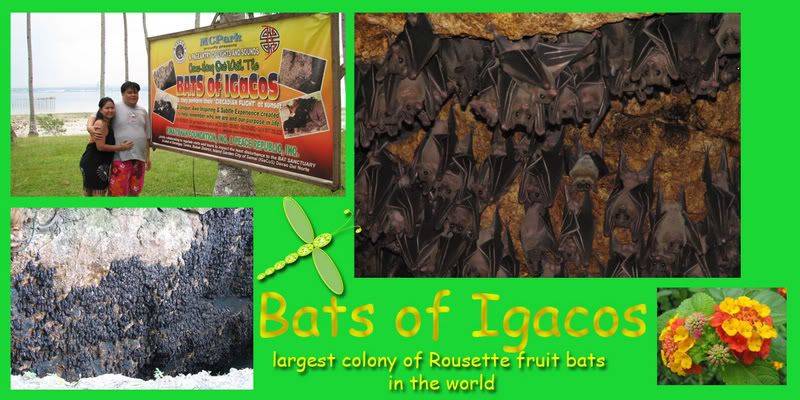 But the place... the bats... AWESOME! And I loved the fact that the people who owned the land are really making a good job in preserving that habitat for those fruit bats. Of course, my ever loving husband felt a little bad that we couldn't share that experience with his baby brother (who turned 12 last October 08)... who would have loved the bats.
Well, we could always return next year :)
Next stop is
Hagimit Springs
... and by golly, the short trek to the place is so much worth it! The water is colored a dusky blue-green and it was super cold in a refreshing way! I actually enjoyed its waters more than the beach... but since it's actually also a river and falls, I hit myself plenty on rock surfaces. The current by the falls was also very strong... We maximized our newly-bought waterproof camera there and took lots of pictures of the waves from the water crashing from the falls.
I so loved it there, it was actually painful to leave! It's a great site for a picnic with friends... the atmosphere so quaint, friendly and relaxing.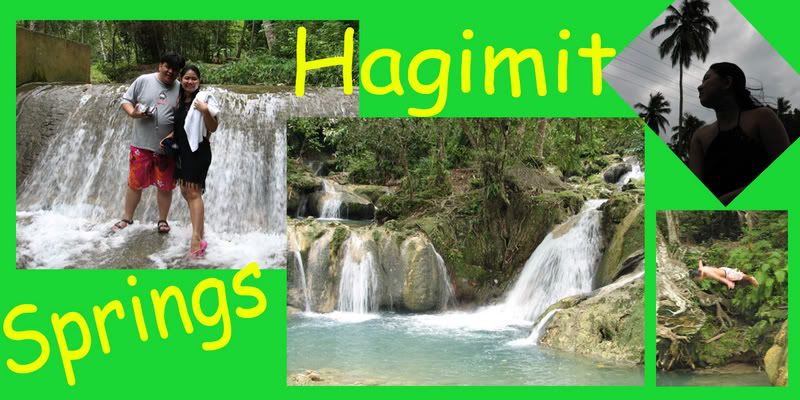 I honestly do not remember giggling so much at one time... but I was just really having so much fun and falling in love (with Davao, with my beloved).
Last stop took us to the
Samal White House
... the old Moncadian religious house that sits on top of a hill, offering a grand view of mainland Davao, the sea separating it from Samal, the beautiful landscape of trees and sea, and Talicud Island. The volunteer that day, Mitchi, took us on a tour of the house and answered all our questions on the house, their religion, and the general way of life in Samal.
And of course, I fell in love with the house... and my pictures by its windows
(yes, ala-babae sa may bintana ang drama ko ever!)
are now one of my favorite pictures of me. I have this weakness for old Spanish houses that are airy, wooden and sparsely furnished... and the old mansion (Moncado's house and Moncadian officers' quarters) just really appealed to the senses. Ooooh, what i'd do for a house like that!
(Moncado, who founded the religion, looked like my husband's grandfather... and two of its top leaders right now are named Jesus... so Jojo and I teased each other about buying land there and just settling in Samal... and coverting to that religion :) What's more, they're vegetarians and we daydreamed that we'd lose weight once we join their fold, ahehe)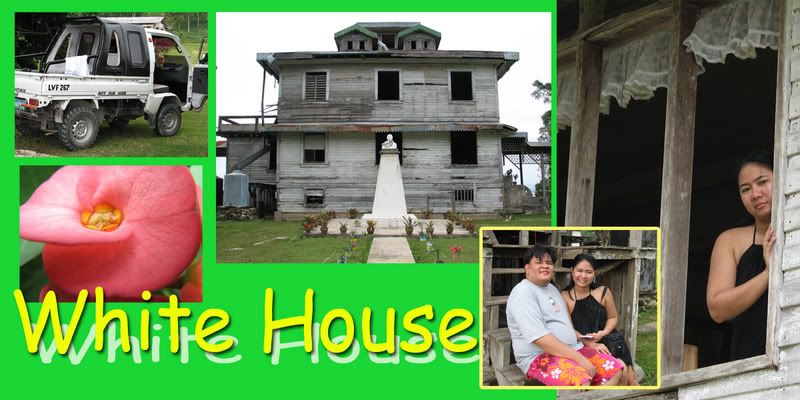 We were only in Samal for around 24 hours... but the rich and wonderful moments we had there made it feel like we were there for much longer. A ferry trip took us back to our quarters where we bathed and changed... then went to Victoria Plaza/Mall to buy some stuff
(we ended buying a kilo of baking white chocolate... one of those things/brands that couldn't be found here in Manila)
. Dinner was buffet offered by Probinsya restaurant, where Baby enjoyed the halo-halo station... and I feasted on
kilawing tuna
.
Yum-yum!
*~*
The next day found us taking a bus to Calinan, bound for the Philippine Eagle Center (PEC). It's roughly a 1-hour ride that I used up eating one whole pomelo while hubs snoozed... the bus was awful! The air-conditioning wasn't working so I was generally unable to enjoy the view to Calinan (which was filled with views of plantations).
At Calinan proper, you ride a tricycle to Malagos to get to PEC. Baby Jojo was distracted by rambutan sellers so he bought a kilo (P20 there, cheaper than in the City proper) of the fruit and ate his way to the whole bag while we went around the Center.
The place isn't as big as I thought it would be... and for P50 entrance fee, I expected better kept comfort rooms. But still, people should really bring in their own food and indulge in a picnic on its grounds. It was just beautiful there.
There were other animals aside from the different type of eagles. Actually a LAWIN (is that a hawk in English?) greets you at the entrance/souvenir shop. Eagles are ensconced in big/high cages so taking pictures of them could be a problem.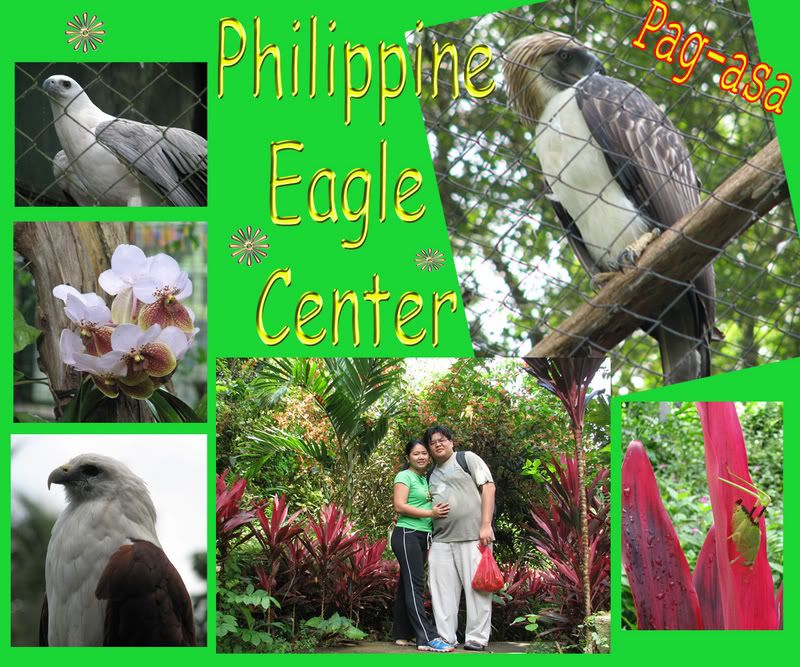 I recorded the squawking of one of them and made it my ring tone :)
Again, if I wanted money, i'd buy a lot there! Malagos also boasts of an Orchid Garden of sorts, plus the Malagos Garden Resort (similar in concept to the Malasag Gardens in CDO, and the Garden Eden Resort in anotehr part of Davao). It's cool there and lush...
After that, we were supposed to go to Crocodile Farm and actually got there but it rained. After around 45 minutes we decided to stop waiting the rain out and just go to Gaisano Mall.
We ended up malling for around 3 hours, and even betted on the lotto there.
*~*
To cap the vacation, Monday found us entering the Marco Polo hotel to indulge in their Breakfast buffet. It was as bountiful as I remembered, but alas, I was just not as heartily an eater as before (or maybe the week-long stay in Davao has already sated my gastronomic avarice). After that, we went back to Aldevinco and bought last-minute pasalubongs... and rushed to Victoria Plaza to buy the precious, preciously divine egg pie that we both fell in love with... to take back home to our loved ones.
And that was the
vacation
honeymoon that totally refreshed us. :)
*bow*
*~*
For the rest of the pictures,
click here
.
For a travelogue of sorts on Davao naman,
come here
.