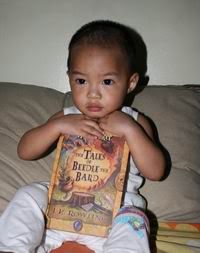 If truth be told, he began chewing on the book's edges even before I could manipulate the DSLR.
But I really cannot wait to read
The Tales of Beedle the Bard
to Yakee and introduce values and moral lessons to him through magic.
And of course, Pappie is the one who is feeding the flames of love (and addiction) to everything Harry Potter. This is truly a great Christmas gift, Baby, and I really, really love you all the more for being so thoughtful. Hopefully, Yakee will really grow up loving the same stories as Mommy does... and that he will grow up appreciating all his books.
Mommy and Yakee love Pappie Jojo. And Mommy is loving Beedle for Yakee for the moment.