Last Thursday, Pappie arrived home early to cook for yours truly. He bought two huge live crabs that Yakee played with for a while. I was anxious that he'd think of them as pets and playmates, to be honest. Pappie also had shrimps, veggies and a tempura sauce to balance out all the cholesterol.
Pappie slaved over the kitchen and managed to really make me feel super happy and blessed. And everyone made sure I had all the time in the world to enjoy the food.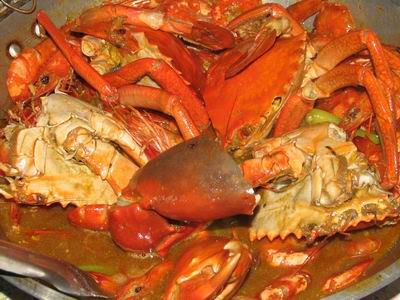 sweet chili crabs and shrimps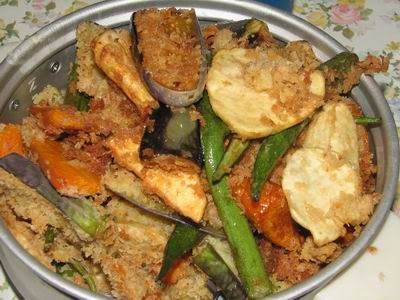 veggie tempura which Yakee enjoyed
*~*
Friday, I went to meet up with LATCH moms and after that, hubs and I met at Mega Mall and had a dinner date.
Saturday, Pappie watched with my sister and cousin Yakee's progress at the pool. Poor Mommy, Yakee was bent on impressing Pappie that the little tyke refused to pay attention to the instructor! He's still a tropper though :) Then we went to Tagaytay eventhough it was raining half the time to shop at Ilog Maria and the marketplace, and also eat bulalo and buy Mushroom burger.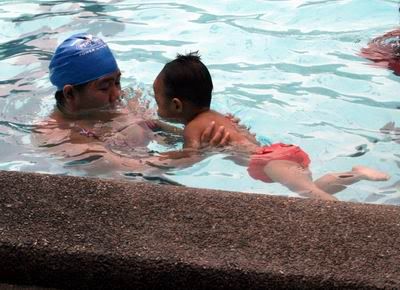 see Yakee kicking while trying to copy
Mommy blowing bubbles in the water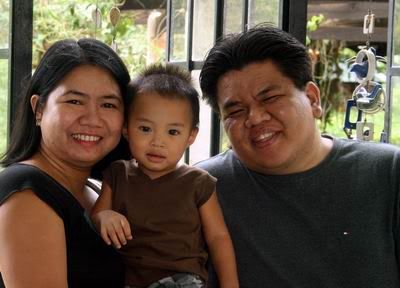 for once, we're all smiling in the same pic!
Then we spent the rest of the weekend with my in laws... who fed us much and enjoyed Yakee more :) We also started planning our Marinduque trip.
*~*
I don't know if it's his cousins or Yakee himself who slid a 5-centavo coin in his diapers. I knew it wasn't passed along with his poop when I changed him and I really laughed when I saw it.
He learned to say "paper" today.