Mike & Icel wedding
My bestfriend got married last Saturday at Lipa Cathedral. I was a little emotional seeing her waiting for the cathedral doors to be opened for her march.
Anyway, the ceremony was nice enough... am not so sure who their suppliers were, but the
El Grande Resort
was nice, with the reception held at the pavilion overlooking their 3 pools.
Other nice touches at the wedding...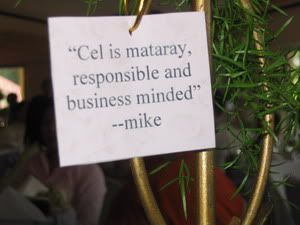 Note cards about them, things they've done, given, said, etc. were hung from the centerpieces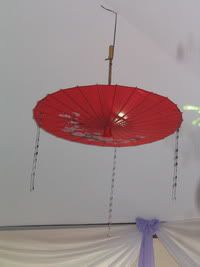 Japanese umbrellas/parasols were hung from the pavilion's ceiling, with beads cascading from them... similar umbrellas were used to decorate the gazebos too
That was the first time I saw my friend wear make-up. And I just know, they'd live happily forever...
Anyway, here's to a happy, healthy life for them! :)
(will blog about this wedding some more on my main blog)
*~*
Why crazylover, you ask? Here is the
proof
.