Blessed Still
As newlyweds, hubby and I still don't have a lot of things... we don't have much savings to speak of, we don't even own a sala set yet. We don't have a car, something which would be really nice to have esply if am already preggy. We don't have air-conditioning (because am not yet prepared to pay the fantastic electricity bills that would incur). We don't have other furnitures to stow away our stuff in. Few of the stuff that we have actually match (since they're gifts, or what's economical). We don't have a refrigerator yet (something his Dad always remembers when he's drinking cold water and what-not). We don't have an oven (something i've always wanted to have, and i've hemmed and hawed over purchasing one ever since Jojo knew me). We're living at my parents' apartment that they used to rent out. We don't have a helper, and still eat with my family (since it's more practical to just chip in for food and gas expenses with them than actually cook for two at our own home). We didn't even have the house repainted or tiled or whatever. Our bed is a P7.5k queen-sized one with steel supports instead of fancy wood. Our cabinet is a pre-fab one, our undie drawers is from Orocan.
And yet we're not complaining. Of course, there are times when we miss and/or long for certain conveniences. But we know we started out with more than our parents did. Our grandparents didn't have enough to help them out. Both sets of parents rented rooms and lived with younger siblings with them. Our parents knew days of using an ironing board as dining table and using old mattresses and blankets. They didn't own appliances and couldn't actually go on leisure trips. Honeymoon then meant staying in the same province you were wed, or going home to the province where you were born.
So, yes, we can't really complain. And we thank our parents for everything they've extended to us.
And we can't really complain because it's not like we're going without certain luxuries in our lives.
Proof?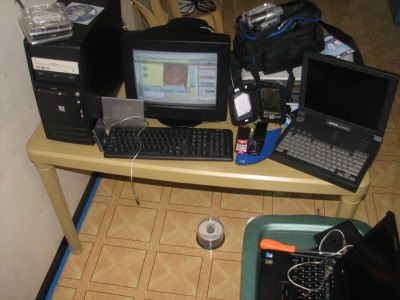 We bought a new computer last Saturday. At first, we were just kidding each other that our digicam cost more than the PC... then later realized we've filled our home with gadgets. Yes, aside from the PC, you're seeing two laptops (one of them an old model), one tablet thingie where you can write (and convert your own handwriting to a font), two PDAs, a digital camcorder, our cellphones, two other hard disks, lots of CDs. Of course, I was using our cam. And my mp3 player was upstairs.

So yes, now I can super digiscrap. My Baby found me a Photoshop tutorial thngie that poses quite a challenge for me. Still, am just learning to think out of the box (because am always like... I don't want anything taking away from the picture!)
Oh yeah, we also had a feast at Seaside (Macapagal) last night. :)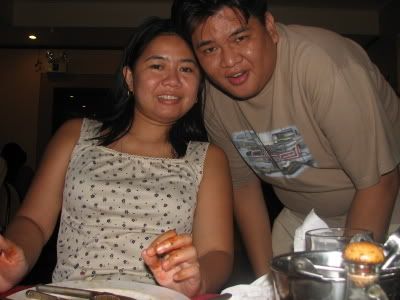 Us at Seaside after a cholesterol-filled meal of shrimps, crabs and tuna belly.



Friendship buttons - Border, Birthday Elements - Birthstone Charms, Heart Bookplate Alpha, Anita Stergiou Paper Swatch, Angie Briggs Pink FLower, Pink Petals by Edible Flowers (Scrapkitchen), Friendship Buttons - Border and Jane Austen Font
Edible Flowers by Scrapkitchen, String of Pearls (Pearl Frame and Rectangle Tag), Shabby Princess Kristie SF (Dot Frame), LSmith (Flower Frame) and Jane Austen font
Thank you for the Blessings, God. Thank you! :)