5th Monthsary, and how
I guess a fitting cap to having already been married for 5 months is getting all the deliverables from our Photo/Video Team: Vignete Photography.
I've said before that I feel a little sad about not having great group photos... because there were 3 photographers vying for everyone's attention... but that we're happy anyway because Vignette was able to capture emotions... and it tickles me pink when a stranger would view our pics and not exclaim over how great the shots are, but how they felt teary... as if they were present in my wedding.
Anyway, I also wouldn't lie. With the budget we could afford, I figured that a lot of teams can actually make us happy. And that their approaches don't really vary that much. So yeah, we mainly got Vignette because their office was near our venues, and because we fell in love with their albums.
They were even accommodating enough to adjust album sizes/pages a little to fit our budget... :) And my gosh, am I happy!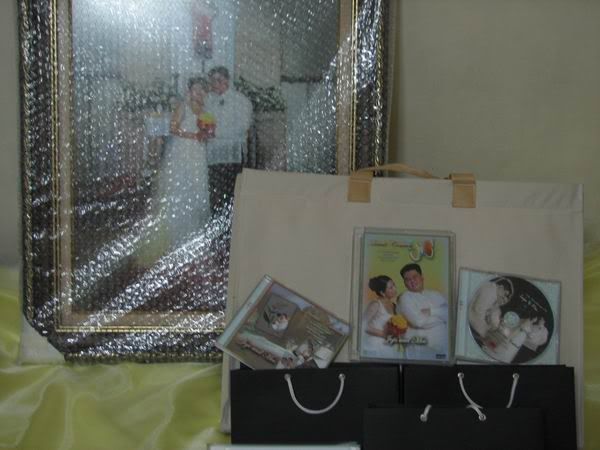 The original picture we chose for the framed pic wasn't that... but my Baby's chinky eyes was so evident in the pic we liked... so we just told Mr. Ignacio to choose from among our Church pics. I'd have preferred something a little more close-up... but since I decided to let them choose the pic, I cannot actually complain. We also chose a simple frame for the pic, figuring it will be easy to match whatever house we live in. The main album comes in a cream box, and a cream canvas bag. The baby albums had this hard plastic thingie for protection and came with the small black paper bags.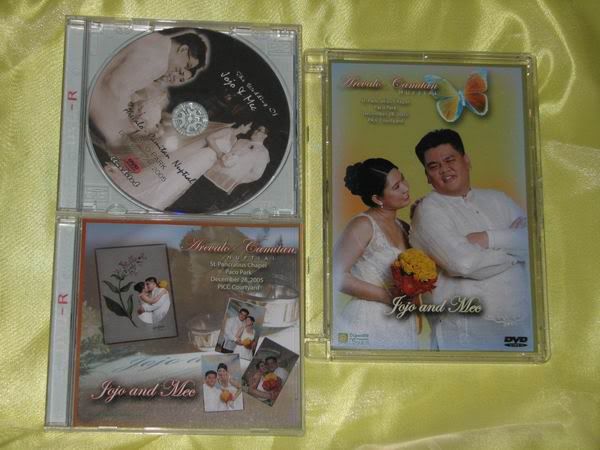 The videos all came in DVD format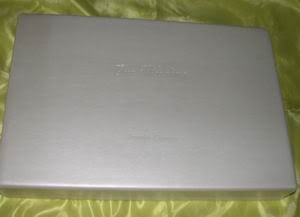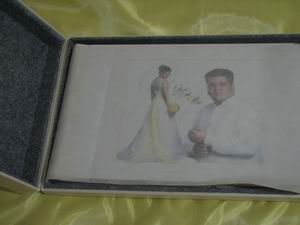 The album box is this THICK duchess satin-type of cover that's cream and looks sooooo nice and bridal. Ahehe. The album also has this dust-protector thingie.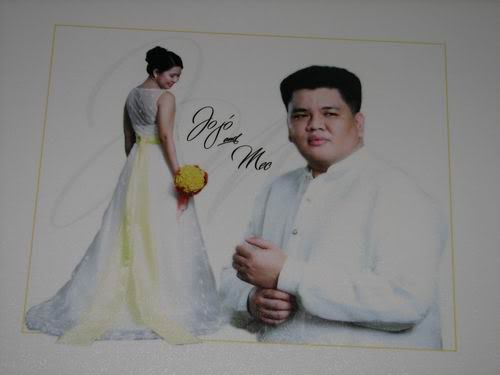 The album cover is like this white leather printed with our pic. Real nice eh? I just thought the wooden magnetic-type of albums offered by most suppliers are too cliche for us (not that there's anything wrong with them... I just preferred this one)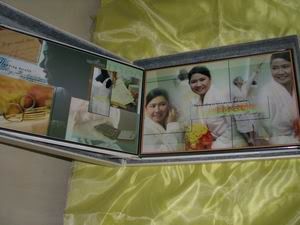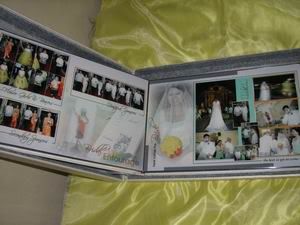 All pages in digital layout and protected by this photo tack (?) thingie. Notice that we preferred the horizontal layout because we didn't like the layouts cut in half and just gilded in silver (like what most Studios offer) in the middle. We felt it was a waste of layout. We also didn't cram so many pictures in our album (out of 2,500+ pics, we only chose around 120 shots?)... which is also why my arm is friggin' numb already from doing the layouts for A4 size-pages to supplement our fine, fine album.





We got 3 Baby albums, one for each set of parents and another one for us (so we won't have to whip out the main album all the time).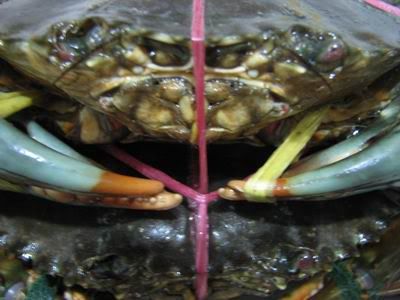 And this is dinner. Hubby bought them all the way from Pampanga.
Yes, I think i've gushed enough. :)