It's a... Father!!!
Actually, am sure that thirty-one years ago... the doctor attending to MIL at UST Hospital shouted, "It's a BOY!!!" to announce my in-laws' firstborn son.
That colicky bundle of joy is now my husband and my son's father.
I am ashamed to share that I do not have any gifts for him, not even a card. See, I didn't have time to buy anything... and if truth be told, I simply lack the energy for anything.
But my husband as a father made me fall in love with him more, and proved how right I was to choose him to be my life partner. My husband as a father is both someone i've always known was there, and someone I never knew he could be.
Fatherhood has made him a greater man... I doubt very much that parents start out wondering what kind of parent their children will turn out to be, but I know my husband is currently making his parents proud.
And I hope someday, Yakee in turn will thank the heavens above and celebrate the day that God gave his Pappie to the world.
Happy Birthday Baby
... you know I love you very much... may you always know that and may I always show it. Here's to your health and the realization of your dreams...
*~*
He doesn't have any recent solo picture...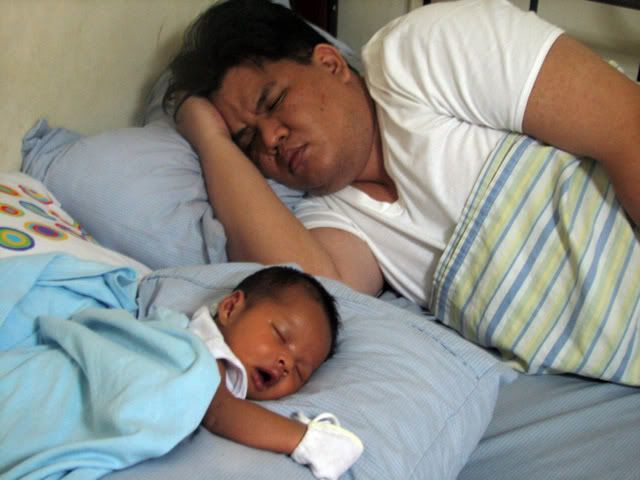 (and as to the mismatched beddings, blame it on Yakee!)