Desktop Tag
Tagged by
Mai
My desktop is usually cluttered super because I like making folders of everything I download and read in it... I only de-clutter it when the PC starts loading real slow. This is actually really uncluttered right now because we've just backed-up our files.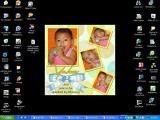 1) A digiscrapped layout of Yakee, one I made after being annoyed big time by his nipple-biting.
All in all, Yakee's pics and videos are already around 7 GB. The last ones i've uploaded in our smugmug account are his 4th month pics.
2) The icons are not really arranged in any particular order... i've been meaning to get rid of the shortcut icons that are mostly for hubs' gadgets but too lazy to do it.
If you still haven't done this, I'd like to see your desktops at the moment
Panaderos
,
Laya
,
Ghee
and
Tito Rolly
HOW TO DO THIS:
Find the Print Screen key on your keyboard and 'click' that, then open your Microsoft Paint and type ctrl V (paste). Then save as either bitmap or jpeg.