It ended that there'd be three deaths in hubs' family all in all, eventhough the last one is over a cousin-in-law's dad (thank you Mahal, for correcting me and reading our blog, hehe). But it was really enough to leave everyone just stressed and reeling from the impact of all those losses.
Hubs' health gave in around Thursday and he succumbed to flu days after I and Yakee did.
Yakee's only recovering his appetite too. Good thing the hilot did wonders for both of us. And yes, my
spa theater experience
was also really divine.
Last Saturday, hubs' maternal side gathered again for Nanay's 9 Days where a beautiful eulogy was read, e-mailed by his cousin who's based in Cayman and couldn't be there.
Hopefully, that's the last of sadness for a while.
*~*
This pic was taken on Friday the 13th, when I had to rush home because Yakee was vomiting and feverish. Hubs came home with this bouquet which was a wonderful surprise in the midst of all the sad news. Plus, I really didn't expect he'd have the time and energy to surprise me with anything, given that he's also stressed at work.
I love the guy. I really, really do. And a testament to my love for him is the fact that i've suddenly ended up cooking TWICE a week now for him (we only agreed on ONCE!).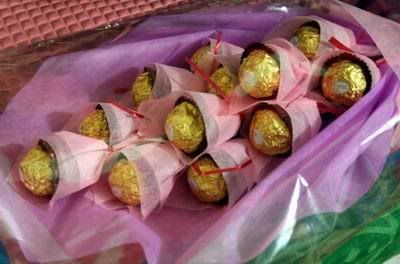 I have yet to eat any though, because my throat
is still sucky
*~*
Anyway, for sure, we'd be in Marinduque for Holy Week. But would we also find ourselves in Donsol?
We'll see.