Mother's Day started with hubs coming up to our bedroom with a huge, huge grin on his face at around 1 AM. I was breastfeeding Yakee and blogging that time. I knew I was going to get my gift already. :)
Hubs handed me a small envelope. Out slid a coupon saying that I am entitled to a pair of Banana Peel slippers. Then I read hubs' note that said something like... he wanted to give me new slippers because he knows i'd be running after our son some more. Smiling, I looked at him and he was already brandishing my other gift: a
Pentax W60 waterproof camera
! The slippers were actually a freebie for the purchase.
I actually had an inkling that he might buy one already because he asked me which I felt was better between that brand/model and Fujifilm's latest. But of course, I wasn't sure. The camera came with a 3-minute recorded message from hubby, who sounded like he was imitating Joe di Mango (he was actually doing the recording in a whisper, lest I hear him from upstairs). I loved the refences he made to my being a doting aunt to my nieces and nephews that told him i'd be a good Mom and the difficult times of my pregnancy.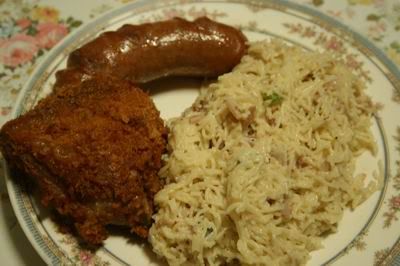 my lunch, which hubby cooked!
I am such a spoiled, spoiled, much-loved Mom. Oh, and the blueberry caramel cheesecake he made is sooo good!
The camera is for Yakee's swimming lessons, our next trip to Marinduque (this coming week) and our future Boracay trip. It's such a commercial phone, with settings for taking pictures of FOOD even (and you can edit your pics right on the camera and add hearts and flowers on them, like you can with some cellphones). We're still thinking of a name for it though... it's colored old rose so we've been joking about naming it Old Rose Dewitt Bukater
(if not Titanic).
I am so happy and blessed. This is such a great Mother's Day indeed.
*~*
Yakee's gift to me was to ask for milk in a feeding bottle. Sigh. He drank three ounces.
*~*
I was bad though. I slapped Yakee's hands from anger when he pushed his cousin so hard that Ice could have banged his head hard on the floor if not for my sister's quick reflexes. And then I listened to my own mother's sermon against scolding and spanking when the two are fighting, reminding me that they don't yet know what they're doing.
It's a reminder to me that I need to spend more time with my son.